ALEX EARLY
Complete E.P.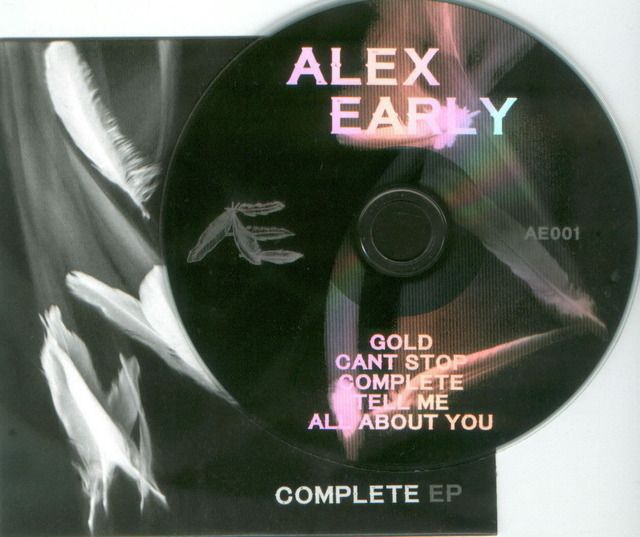 - C.D. 2015

I first encountered Alexander Early as the acoustic entertainment in a marquee of a beer/cider festival at the 3 cups in Bedford, not knowing who he was but mentally noting his talent to play and entertain.
A few years, live shows, Saturday afternoon residency at the Standard (high street pub) and even putting him on a few of our B.A.M. acoustic showcase nights later, now has his first C.D. with falling feathers on the cover, recorded in Thurleigh and contains five tracks.

A relaxing opening to the first track GOLD it's clearly sung enabling you to hear the lyrics and soon skips up a beat to a livelier canter and not fearing to add high notes, knowing he can reach all notes in the range with ease.

CANT STOP has that melancholy edge you get with a lot of solo acoustic acts and still retains catchiness. It demonstrates a good bit of song writing and is about missing that special person.

COMPLETE is a song that showcases the singers range well and his ability to confidently reach the higher notes and is a soothing relaxing listen.
The song is about finding someone who completes you as a person and not wanting them to leave, sung with a sense of passion and poignancy.

TELL ME Gees it up a notch and a favourite of the collection, it's a good tune being both sung and played well. No soaring riffs or drastic time swings and changes, instead you get competent guitar playing complimenting a good rhythm to the tune with a good chorus and as good as anything George Ezra knocks out and overplayed on radio!

ALL ABOUT YOU. Another good slice of the sound of this acoustic gentleman, with a skippy beat lending a nice sound to the guitar and highly listenable quire toned vocals.