Fuelled Hate, Dead Reckoning, Diervers, Fractured, Unitra.

Dannys Bar Lev 1 Esquires Bedford. Friday 2nd October 2015.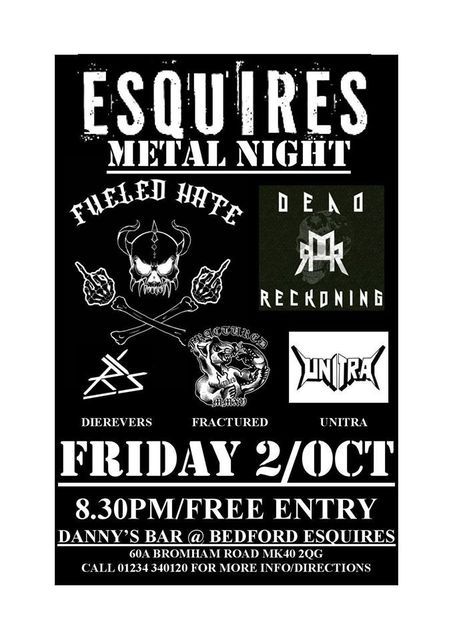 Thanks to some dedicated planning by Amy Mason, Esquires enjoyed a most magnificent metal gig in the bar tonight. Acquaintances were re ignited with some of the musicians on display and to make things even more special, the event was watched by a packed and vibrant crowd. My highlight was obviously the return to our venue of Corby's hardcore collective Fuelled Hate, but there was more than enough to enjoy from some of the other bands on display to please practically everybody in attendance, sweat copiously poured, pints were often swept aside on to the floor and even a little blood was spilt by an air guitar playing regular! Yes folks it was that sort of night!
Opening were
UNITRA
, apparently this quartet have on various occasions attended the regular Esquires Wednesday jam nights. This Kettering band are (in a good way) fun to watch. Tight jeans, white trainers and pointy guitars, what more do you require on a wind down Friday evening? An orchestral backing track offers a most grandeur intro before they announce their arrival with a cheery greeting of "Ladies and Gentlemen, we are Unitra and we bring you Fxxxing heavy metal!" They do proceed in the next half hour to be true to their word. Stage presence is good and composure is soon regained after a false start to The Black Death. Their drummer (so often the invisible musician of the band) appears to be quite a character, often to be seen spinning his sticks with his deft fingers; he also takes on a lot of the vocal duties. Unitra would I feel adverse or afraid to tell a few bad jokes or provide a parody routine of the frontman getting fired from the band. A cover of Breaking The Law is fantastically played and respected.
FRACTURED
are making their Esquires debut and feature a drummer, two guitarists and two vocalists. Quite shouty, there's a bit more to it than the usual metalcore fayre. A lot of it is slower than expected or anticipated; in fact musically it contains a hypnotic trawl through a maze of torturously slow riffs and vibes that verge on being downright evil. When the pace and speed kicks in to gear, they appear to have the makings of a most excellent hardcore band. I wish in fact that they would explore this route more often. Fracture also orchestrate the crowd excellently. Forget a polite mosh pit in the bar, this was just like being back in the 1980's and I believe slamdancing has just made a comeback here! People, glasses and beer as everyone was picked up if they went down.
Sadly the evening slackens when
DIEREVERS
start playing. A bit older than the other bands so far, they are more melodic, which is a polite way of saying slower and not a great deal of fun. No Escape is a very apt song title as I wish I could! They do sound a bit like they've mashed up all the worst bits of Metallica they feature a not very compelling frontman. Indeed I struggle to feel any personality emanating from this band. The frontman appears to be constantly channelling his inner Hetfield, which leaves me rather sorry for the other guys in Dierevers, as they are trying their best. A case in point is proved when they covered Seek And Destroy. However by this time, my feelings for this band were extremely negative and I really couldn't give a shit! Very much the low part of the evening.
I've heard so many glowing reports about
DEAD RECKONING
and tonight I got the chance to witness that everything I'd heard beforehand was true. The soundwaves wafting from the stage are nothing short of glorious. Walls of guitars literally scream with note perfect precision. Vocals are spat out with a growing intensity, while the said frontman spins, advances, steadily backtracks and then circles around a crowd, who are virtually eyeball to eyeball with him. It's loud and brutal, but thankfully the sound in this room is cushioned so well by the carpeted floor. This five piece proudly announce where they live, "From Milton Fxxxing Keynes!" recently, Dead Reckoning released a three track E.P. entitled Myth. I can heartily recommend it. The songs they recorded are featured live tonight. Gaia is my favourite. The primordial goddess of the Earth, (according to Greek mythology) would I imagine, give the lads a hefty 'Big Up' for their musical eulogy to her. Their grinding groove metal is lapped up by the crowd with raw unbridled vigour. Infact it's almost a repeat performance mosh pit wise, as when Fractured performed earlier. Riffs churn relentlessly, as I am engrossed throughout a magnificent set.
FUELLED HATE
are back, ready to raise the bar again! It is a shame though that the evening has run far too late. Sadly the room has thinned out quite considerably by the time Corby's finest get to play. Well for those people who did leave slightly early, my message to you is that you missed an absolute treat. This five piece are steeped in rock and metal and include a vocalist who specialises in a feral, street rap menace. It's encased in hardcore, stirred well, it is chaotically served up. As soon as Fuelled Hate pitch up and play, an anarchic aura seems to sweep over this normally refined and conservative bar room. The rap maestro initially wears a bright buttoned orange shirt with 'Death Row' emblazoned upon it. Needless to say, the garment is soon removed and a few of the males in attendance quickly follow suit. The musical engine room of the band prefer to don bandanas. A vocal growl of "it's nice to be back in Bedford, lets do it" reverberates around the room, while the songs needless to say, come thick and frenetically fast. With Bedford's own hardcore scene at an all time low, the reaction that Fuelled Hate receive is heartening, it's almost cathartic I'd say. The wiry tattooed wordsmith cajoles with a twinkle in his mischievous eye. He manically runs about the room, dementedly he gets his lyrics across, but most importantly he's down on the floor getting in to some peoples faces. I feel his stagename could I suppose be, 'Mr Disorder Incarnate!' Random Thoughts, Dig My Own Grave and Dogs are ferociously played. Fuelled Hate incite and rise to a vitriolic surge of crowd slamming. These extremely sinister clowns get a shout out, but we do know that they really are evil. Torture Chamber and End Game just sonically drag you kicking and screaming through the wild side. An encore at round about midnight thirty is lustily received. It's a most fitting finale to a superb night of uncompromising sounds. I must say it has been one of the most energetic packages of bands to hit this bar for quite some time. A repeat performance is hotly anticipated by this elderly Metalhead!!
Review by Martin Stapleton. www.bedfordalternativemusic.co.uk